Gil is getting pretty close with the first phrase of Jamaica Farewell, but it's a little different than my recording and I thought that using shapes to see the rhythm might help.
Just like it's hard to see objects that are similar from a distance, it's difficult to hear the difference between rhythms that are pretty similar. Sometimes it even seems like something is different, but you it's hard to discern what exactly.
Three images
This first image will show the two rhythms at a small size, they look pretty similar. The next image will be zoomed in. And the third image will have lines added to show how the starts of the notes compare.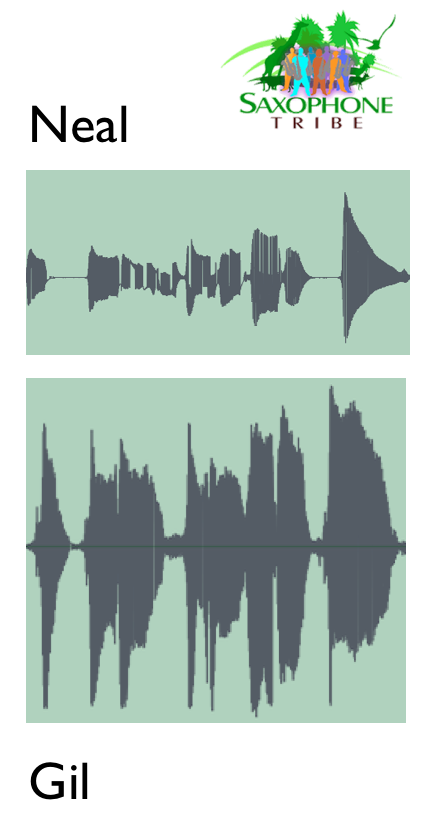 But we can look at the shapes of the rhythm and zoom in to see how they are different.
Look at the lengths of the notes and the spacing.
Each recording is about 3.5 seconds.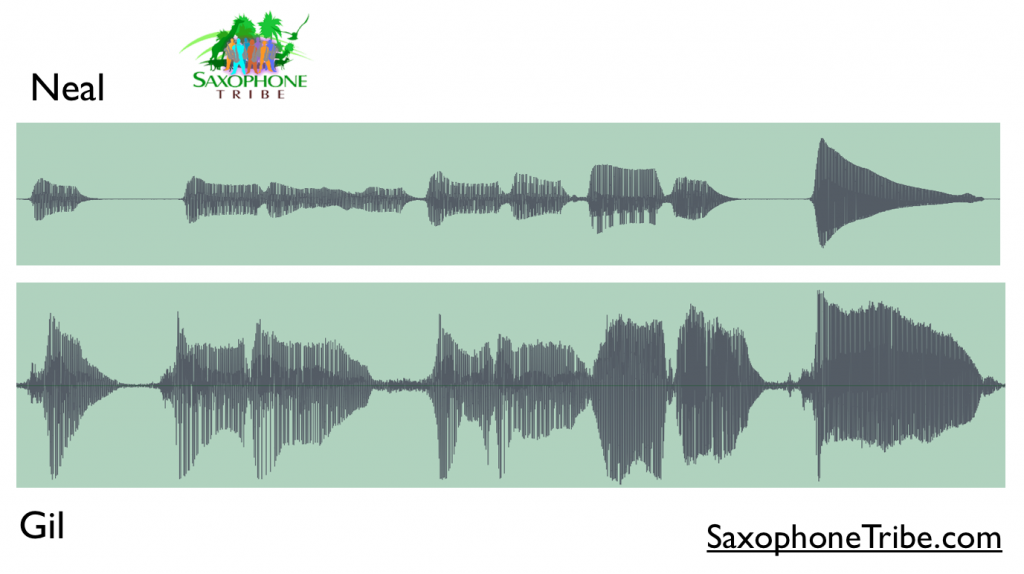 The differences are small. But coming in early or late by an eighth note value shifts upbeats and downbeats and even by a sixteenth notes value is noticeable.
And here are lines that show how close the starts of the notes line up.
I see two small but noticeable differences, the rest is pretty close. What differences do you see?
The ends of the notes and the space in between reflect how long you hold the notes. And part of that is a choice you make. For this melody, I was playing quarter note values on upbeats short (first and seventh notes) and played them pretty short. Gil played those two notes (first and seventh) a little longer, which is not wrong but it sounds a little different.
But if you play a note short, that doesn't mean you should come in on the next note early. The amount of the note you leave out needs to be filled with space.
If it's not, that will often cause a chain reaction of other notes being off time.
Sometimes you can get back on board, which actually seems to happen here. But it changes the feeling of the music if the rhythm is shifted and not consistent.
Playing 'behind the beat' or 'ahead of the beat' is something you want to do at times, but being behind the beat part of the time and ahead of it other times and/or catching up isn't going to be a good thing.