How is learning saxophone like going to the gym?
Many of us, including myself, would like to be in great physical shape.
However, the process to getting there seems difficult and can be inefficient if not done consistently or with good technique.
Say you walk into a gym, the idea is to get stronger and improve your fitness. But there are many options. And you know that you could hurt yourself if you do too much or use the wrong technique.
For many years, I was in decent shape, my weight did not change much but I also did not get much stronger.
When I started going to Crossfit Monterey, the personal training there helped me a lot. Getting feedback on what I was doing quickly eliminated bad habits and helped me develop good habits.
The people who ran the gym really knew what they were talking about. They used a variety of movements, a focus on technique, moving into heavier lifting, and education about nutrition.
Eventually, I could do somewhat complicated lifts, like the clean, with technique that made it safe and a decent amount of weight.
One of the techniques they taught me for this one was to imagine jumping as I did it. Definitely was not getting off the floor with this much weight, but the mindset helped me do the lift.
Often a very simple change can have a large impact.
Encouragement and challenge were both important parts of training.
You can hear the voice of Jacob Tsypkin in the video.
He thinks about fitness all the time, obsessed with it some might say. He reads a ton, comes up with interesting and different ideas, and overall is very effective at what he does.
My name is Neal, I run Sax Station, and have more of an obsession with music.
Learning to play saxophone also involves many elements and as you learn, feedback can help you advance much quicker and sound better..
With Saxophone Tribe, you can get honest feedback and a structured method that covers sound, rhythm, technique, color, and listening. Rhythm most of all. You'll get help and lessons explained step by step.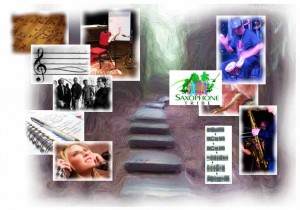 You will be challenged.

(Current members e-mail me if needed for access)
Coming back to saxophone but feeling stuck?
It's easy to get off track when practicing on your own and it may be enough to discourage you from continuing.
Playing the saxophone should be fun though and with a little guidance you'll avoid frustration.Student
The aim may not be to become a professional but at least play songs for your friends and family.
Everyone in Saxophone Tribe is encouraged as they learn to play.
You will receive constructive feedback and suggestions. When you are told there is a problem, you also get suggestions on the cause of the problem and on how to fix it.And despite distances and time differences, it will still feel 'hands on'.
Example Lesson: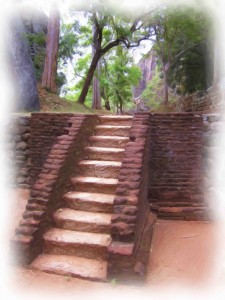 With the right tools and time spent practicing, you'll soon sound better.
Two Major Components to Improving on Saxophone Are:
1.Slowing down
2. Receiving feedback/guidance.
Slowing down and focusing makes you sound really good on something rather than mediocre on a large number of pieces of music.
Feedback allows you to get help from an extra set of ears and catch things that you can easily miss or be unaware of.
And in addition to guidance , you'll have freedom and help as you learn the music you really want to play. You will be encouraged, but not rushed. That means timely feedback as you progress and also learning from the rest of the group. The questions from others and the answers save you time and keep you from developing bad habits.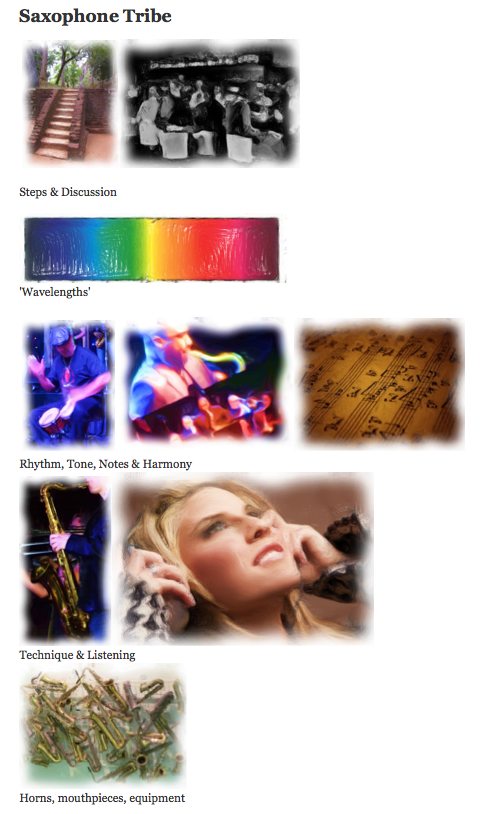 Playing saxophone in front of an audience…..
Can be nerve wracking. Especially if there's any piece of it that you're not completely comfortable with.
Getting the confidence to play comfortably allows you the stuff that you know. Building that confidence involves mastering the different dimensions of saxophone and having songs and ideas to play.
A simple melody played by a true musician can bring a silence over the crowd.
And as you play a song like Amazing Grace, you get enraptured by the music, you'll forget about the people and even the time and place. You'll connect with the music, with the composer, with those who have played it before you.
Music is the language that you'll speak. And the audience will understand and respond. You'll see emotions on their face as you play, you may even get them to dance. And afterward, you'll hear the applause see excited faces all around you and get to talk to people who are now fans.
You'll Achieve a Multidimensional Mastery of the Saxophone
Sounding good on sax is not a simple task…
But with some help, you can improve quickly.
Investing in Saxophone Tribe will save you time and prevent frustration and improve your sound much faster on the saxophone.
People sometimes will throw questions at you about how you learned, what kind of horn and mouthpiece you're using, how long you've been playing, who taught you.
Even if you've only been playing saxophone for a little while, people will think that you've spent years mastering it if you sound good.
If you have wanted to learn saxophone or set it aside for a number of years, pick it up again!
You can play the music you want to play by practicing in your free time.
It's a great anti-depressant! And it won't cost you that much money.
If you enjoy the music, the scales won't seem tiresome and exercises that have a definite payoff will make more sense. The process of learning saxophone is one to have fun with.
Might even be surprised at how easy it is to play things on saxophone.
And as you play more it will get easier and easier. Before you know it, you'll be playing all the pieces you like best. Ballads, swing, funk, Latin, classical, jazz.
Even if you don't see yourself as having a special talent in music. You can become an accomplished saxophone player, someone people want to hear.
If you are serious about playing saxophone and being happy with your sound on sax for yourself, family, and audiences….
The saxophone is a complicated beast!
If you would like some help sounding better, understanding all the dimensions of playing saxophone will make you calm and confident and sound the way you want.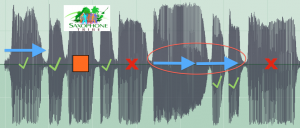 You'll learn fundamental saxophone skills or just get help with the basics.
Your saxophone questions will be answered inside the Saxophone Tribe.

Sounding great isn't just a matter of picking up the horn and blowing, obviously. It can be tough to get on stage and put yourself out there. And then if things don't go well, it's discouraging!
My name is Neal, you may know me already, have been playing sax for sixteen years and have been through some rough episodes getting to the point where I'm at now.
Saxophone Tribe will be available to you when you need help. You can even send questions at 2 AM!

How Will You Systematically Improve on Sax?
You'll get access with lessons and premium content including recordings. You'll also get feedback on your playing from me.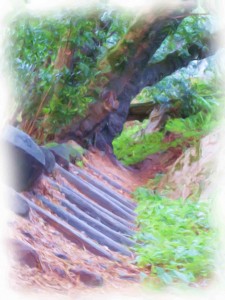 You are given a clear structure with a number of steps to take, initially four steps. Those include sending in recordings, how to do that is explained by me and if you can dial a phone, you'll be able to send the recording.
So you can dive into the lessons and also move at your own pace. Then you'll get suggestions and new material once you're ready to move on.
In terms of getting better at music and really working on ideas, I feel like it works better to get a simple lesson, have some space to practice it and figure it out for yourself, and then be able to talk to the instructor and play around with it after spending time on it.You'll be able to work on things at your own pace
Waiting List:
If you are too late and we are currently not accepting new students, then get on the "waiting list" page before you can go to the payment page later.
Important: Read this
Eligibility:You will have to agree to practice the material and tackle the challenges.If you do that, you'll learn a lot and be glad you signed up.
Saxophone Tribe

Basic

Regular

Premium


Ear Training, Scales, Melodies
Technique exercises, vocabulary for improvisation
Systematic path to improve your saxophone playing including feedback
Recordings per Month Reviewed
Up to 3
Up to 5
Up to 8
BONUSES
Guide to getting started with altissimo (diagrams and recordings).
Critiques of one improvised solo each month. ($20 value)
–
Personal critiques of two recordings/month on sax that you choose. ($30 value!).
–
–
Special Price:
$30/month
$37/month
$39/month
Get on the Waiting List
Currency Converter
One Year, Saxophone Tribe Premium: $390 (Save 17% compared to monthly price!)
Outside of the United States?
No problem, use this currency converter to check prices.
[wpcc title="Currency Converter" pretool_paragraph="Try this handy currency converter tool:" from_default=USD to_default=AUD]
Note about payment if you live outside the United States:
If you do not yet have a Paypal account, first select, 'no Paypal account' then there's a scrolling menu for country where you should select your country.
After that, the languages may switch to your language. **You will need a Paypal account to sign up for this subscription.
"Restart Song" Guarantee
30 Day Money Back Guarantee
If for whatever reason, the class isn't right for you, let me know and you'll be refunded the class fee. No worries whatsoever. Sometimes things change in your life unexpectedly, whatever the reason, you're covered. Students in Saxophone Tribe have gotten great results though, so you'll very likely gain a lot and improve your sound significantly. You can also cancel any time after 30 days and not be billed again. Try it out!
Order Now
128 bit Secure Order Encryption
Bonuses For Signing Up Now
If you sign up on this special bonus page, you can get your saxophone practice routine personally critiqued by me and I'll make recommendations on what you're doing right and what you should change to effectively practice.
You will get a detailed critique of your saxophone practice routine. This critique alone can save you a ton of time by making what you practice really help your sound effectively.
Costs much less than weekly saxophone lessons.
Who Should NOT Sign Up & Who SHOULD Sign Up?
The ideal student is someone who has some time to practice but can't necessarily make it to private saxophone lessons every week. They know that there is work involved and hurdles to be jumped.
Frequently Asked Questions
"1. I don't read music very well… I'm worried that I won't be able to access the information"
Most music you will be able to hear and learn by ear. Some of the lessons require learning by ear since I feel reading and learning by ear are both important. A fingering char is provided. And diagrams are included in some of the lessons.
"2. I 'm only starting to play the saxophone and am concerned that many of the lessons will be beyond my level."
The lessons start with fundamentals, they are not difficult to understand, but are difficult to play well. There will be some materials that is more advanced, but you'll be able to play it later on after you have built a foundation.
"3. Saxophone Tribe sounds great….what should I do if I'm still not sure?"
If there is something in particular you are concerned about, send me an email. I'll get back to you quickly with an honest answer. If it doesn't seem like Saxophone Tribe is the best fit for you, I'll let you know. And remember that you're covered by the "Became a Trombone Player, 30 Day Money Back Guarantee".
"4. May I See A Sample Before I Sign Up?"
Definitely. On Sax Station you get access to a few lessons that come from Saxophone Tribe. One is available immediately after you enter your name and email address. You can also fill out a survey on Sax Station to watch a critique done within Saxophone Tribe.
"5. What Styles Of Music Do You Cover?"
Jazz, classical, blues, Latin tend to be the styles I play. Can also help you with some other styles like Gospel and Smooth Jazz if you're interested in them. The same principles of music applies to all music, one of the main things that changes between styles is the phrasing and articulation.
Technical Details For Saxophone Tribe

Format: Audio files are MP3 and videos are either streaming in a your web browser (if you can view youtube, you'll be able to see them) or mv4 or .mov files. They play in most media players. I recommend using quicktime and getting iTunes. Both of those programs are available on Mac and PC. The audio and video can also be transferred to devices such as iPads or burned to CD (audio). PDF files can be read (and printed out).
Delivery: All the lessons and material of Saxophone Tribe are viewable online and/or downloadable. You'll be notified about updates via email.
Payment Methods: Paypal is currently used for all payments. If you do not yet have aPayPal account they can be set up in just a few steps and are easy to use.
Currency: All payments are in US Dollars. Paypal also converts to your currency.
Computer/File Compatibility: Video files, MP3 files and PDF files are viewable on both Macs and PCs. If you have any technical issues, just let me know and I'll help walk you through them.

Support: If you're having trouble downloading the different parts of each lesson, or finding software to open it, all you need to do is email me. I'll get back to you with answers and help as soon as possible.
Order Now
128 bit Secure Order Encryption
One Year, Saxophone Tribe Premium: $390 (Save 17% compared to monthly price)
Get Your Saxophone Groove On
Neal Battaglia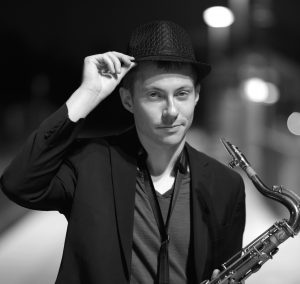 P.S. Imagine yourself in three weeks, sounding better because you're now part of the Saxophone Tribe.P.P.S. Let me know if you have any questions about Saxophone Tribe, e-mail me.