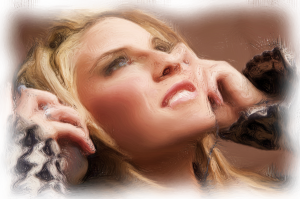 Ear training can be a challenge, especially if you have mostly learned by reading.
Ear training generally means learning music from recordings for me. You can learn things from live recordings, but you generally won't have the option to ask them to repeat something! If you have the recording and the right tools, you can slow things down too.
It involves getting the rhythm, notes, articulation, dynamics, phrasing, and everything else involved in music.
When you want to learn something by ear and then look at the music, you'll 'get it' quickly. You might feel like you really have it and can play it by memory, but if you hadn't looked at the music it would have taken you longer to figure it out.
The thing is, that longer time and the struggle enables you to learn things better.
You're far more likely to remember something if you struggle while learning.
If you're learning music on saxophone and want to play something, try playing a note that you think you hear. You might be off by two octaves. But once you play it, you should hear a difference. Then if you play a second note, it ought to be closer using what you have learned. If you try to instantly guess what the note is and have no experience learning music by ear, you might feel overwhelmed and not even try to play a note, simply giving up.
First Exercise:
Figure out the note (singular) and rhythm of this jam at NAMM. It's played once, you then hear some solos- use that time to get a feel for the song and maybe noodle around with some notes. Then try playing along when the line comes back. I'll let you know what the note is at the end if you haven't figured it out yet.
Intervals:
Being familiar with the intervals will help in ear training. Knowing all the major scales is a good early step. And becoming familiar with the individual intervals. Minor second, major second, minor third, major third, etc. The intervals that are closer together tend to be easier to hear, so a major second compared to a major 9th.
There's a website with a tool for practicing intervals that I highly recommend:
And go to the exercises section
Looking at the sheet music will give you the answer instantly all at once. If you were working with a saxophone teacher, he or she could probably give you the first note and then let you work from there. It would give you a starting point. And if you got off track, you might learn from the teacher where exactly you got off track.
Here are four easy melodies to practice (zip file, right click and save as)
Work on those and get them, let me know how it goes and I'll get you some more.
Here's a visual breakdown of a melody, start with this one.  Twinkle Twinkle Little Star (by Mozart)
Visually it would look something like this, seven notes in the first phrase that you can see in that first group, etc.
The first note is C on your saxophone (C on alto for the alto version, C on tenor for the tenor version)
twinkle_twinkle_tenor (mp3, right click and save as)
twinkle_twinkle_alto (mp3, right click and save as)
Then try these lessons in the order listed.  Get the notes, but also pay attention to the rhythm, phrasing, & articulation.  Let me know if you have questions!
Part 1: It Don't Mean a Thing 'solution'
Part 2: Godfather Theme Lesson 'solution'
 Part 3: In the Hall of the Mountain King 'solution'

Continuing with ear training
Got asked a few years back if I knew the tune Jamaica Farewell.  Didn't at that point.  But learned it after I got back home from a trip.  This tune doesn't start on beat 1.  In either recording I start on A.  More information as you follow the steps.
I like this tune a lot, my friend's uncle asked me if I could play it, I couldn't at that point, so I learned it.  Played in different keys on alto and tenor.  Slowed down.  Try it out!
Sonny Rollins Solo from Tenor Madness.  Sonny Rollins played with John Coltrane on this track.  They both played good stuff, Sonny Rollins style is something that I connect a little better with.
rollins_solo_first_few_parts_saxophone_tribe_slow (mp3, right click and save)
So What Solo, First Chorus (Miles Davis)
http://saxophonetribe.com/so-what-solo-first-chorus/
Nina Simone's Birthday was February 21, 1933.  Decided to learn a solo from one of her songs, 'Sugar in My Bowl'
The solo is on tenor sax and isn't very long, maybe 8 measures.  What's challenging is the tone and effects that the sax player uses.  He bends the notes a lot almost so they sound like other notes, but he's not out of tune.  There are some falls too.
First note is Eb, second note is F.  That should be enough to get you started.  Those notes are concert Db and concert Eb.  So for alto sax they would be Bb and C.
Here's my recording playing it slowly.
Sugar in My Bowl Tenor Solo (mp3 file, right click and save as)
Check out the original, it's at about 1:13.
_________________
Learn any song you want
This section is slightly secret, but not really.  If you worked through the lessons above, you would naturally make your way here.  Or if you randomly scrolled to the bottom of this page.
Sometimes the hardest part about learning music by ear is getting started.  Try the tunes listed above, you can also request help with any song you want to learn here.
'My Girl' by the Temptations
Melvin asked about this one.  My Girl seems to stay in D major (on tenor).  That's C major (concert) or A major on alto.
Tenor:
First four notes are F#, E, F#, D.  "I've got sunshine" – sunshine being those last two notes.
Then D E D B A.  The first two notes are fast, 'on a' clou – dy day.
Alto:
C# B C# A
A B A F# E
Concert:
E, D, E, C
C, D, C, A, G
 Bessie's Blues by John Coltrane
Jerry wanted to learn this one, here are the first two groups of three notes.
Tenor:
A F Eb
D Bb Ab
Alto:
E C Bb
A F Eb
Take the A Train- Ellington/Strayhorn
Samuel wanted to learn this one, here are the first two notes.  Get those first then let me know if you get stuck. Melodies tend to be a little easier to figure out than solos.
Tenor:
A F#
Alto:
E C#
Everything I Do I Do For You
Des wanted to learn this one for his wife.  Lyrics for this first part are "look into my eyes"
Tenor:
G G# G F G F Eb
Alto:
D Eb D C D C Bb