Piece by Piece
Here is Jamaica Farewell broken up into pieces. Take it one piece at a time.
Tenor sax: first three pieces jamaica_123 tenor sax (right click and save)
Alto Sax first phrase:  jamaica_farewell_alto_first_phrase_saxophone_tribe (right click and save)
First piece Diagram:

Second piece Diagram:

Third piece Diagram:

 Articulation
For the first phrase, the rhythm and articulation should look something like this:

Not quite like this:

The first phrase:
Jamaica_farewell_alto_first_phrase_saxophone_tribe (mp3, right click and save)
Jamaica_farewell_tenor_first_phrase_saxophone_tribe (mp3, right click and save)
Comparison of three recordings
Here are three recordings, Kate's, Ron's, and mine. The way I play it with the first note short is how I chose to play it. Probably could leave that note a bit longer, but since it is a quarter note on an upbeat, it often will be shorter than a quarter would be on a downbeat.
Kate played the first note a lot longer, which is a little different than I played it or it would tend to be played in this style. But she comes in with the next note in the right place. At the end, she played a quarter note instead of separating it into two eights.
Ron played the first note slightly longer than I did, but still short. That duration is fine. After that, the second two notes are very slightly early. The last two notes have pretty good timing.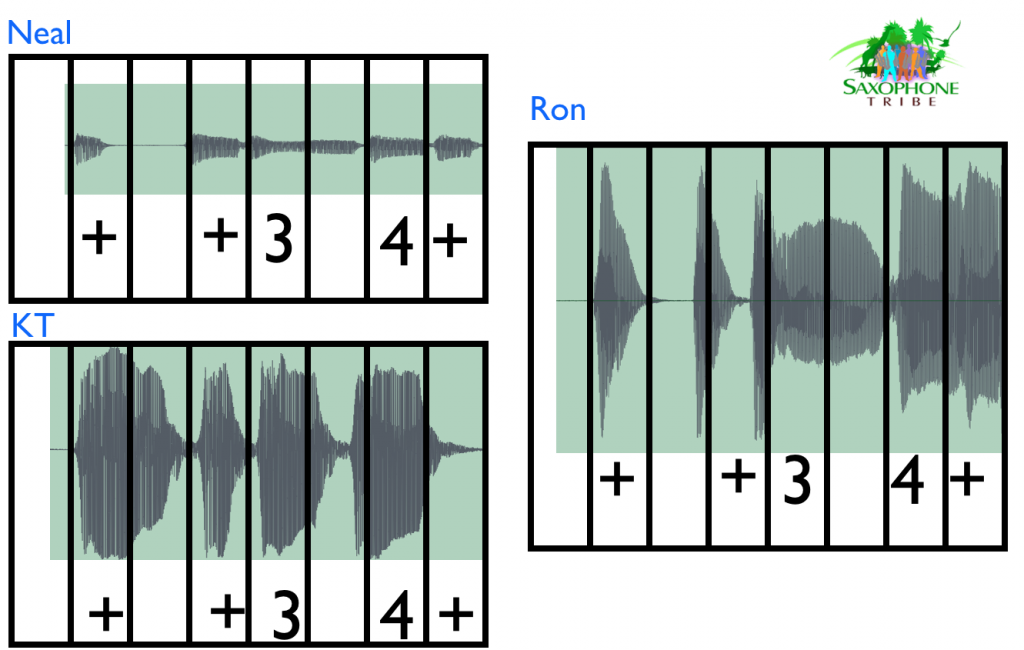 Rushing/Dragging
Sometimes it's easy to rush a piece of music. To work on this, it can help to slow down and to try and relax. Part of this is making smooth motions with the fingers, nothing abrupt.
In this example, it's not bad, but ends up rushing a little bit each step of the way. The main reason seems to be that the eighth notes are being played too short.
Listened to Luc's recording and it wasn't a lot different, but the rhythm was not the same as what I played.
Could assume that the second note came in a little late: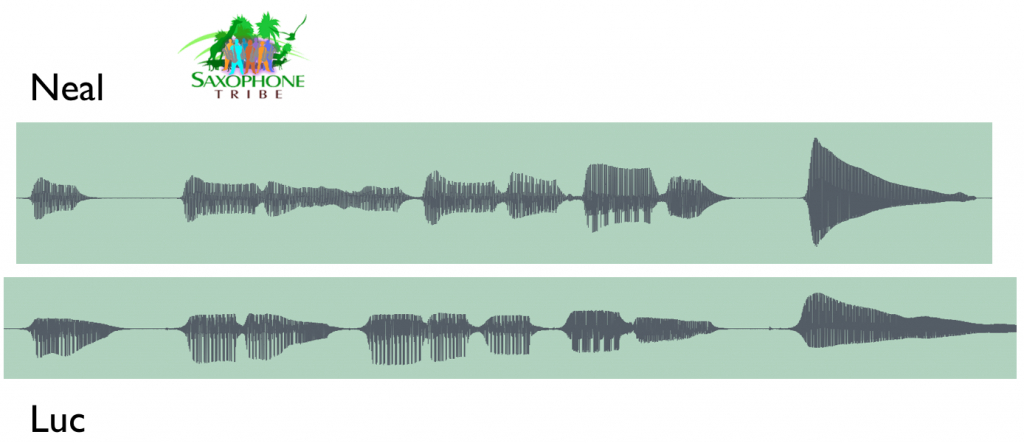 Eighth note values on the grid
Here, I have overlaid a grid, each section corresponds to an eighth note value. The first note could be thought of as a short quarter note (played staccato, half the value) so it has an eighth note value of note and an eighth note value of space. Then there is an eighth, a quarter, two eighths, etc.
If a note is cut short, the tendency is to rush into the next part and the cumulative effect can add up.
Here is the example on the grid with both interpretations of what happened, the correctly timed second note and the late second note: