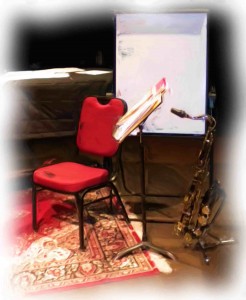 Practicing the right way is what makes you play the saxophone at a higher level.  You also need to get out in the world and play with musicians, but that alone, as Joshua Redman said, will only get you so far.
The late Michael Brecker used to practice many hours a day.  Other master musicians have as well.  You might not have so many hours to dedicate to the instrument, but you can make the most of your practice time.
Think about the goals when you're practicing.  It's kind of like fishing.  You prepare certain types of bait to catch certain fish.
You practice certain things to prepare for performing different styles and with different ends in mind.
If you need to refine your technique, it might be good to spend more time working meticulously on classical music.
If you want to strengthen your sound, spend more time on long tones and ballads.
If you rhythm isn't solid in a style of music, slow down and check out what's going on within the rhythm section.
Practice Tips:
Doing things like putting your horn on stand and making it available to practice can help.
George Young suggested to me dividing practice time on saxophone into three equal parts.  It's a good basis to build your practice routine with, although of course you can make changes based on where you want to go personally.
1.Long tones and ballads
These will help develop your tone. Maintaining a steady tone with intensity takes some work, especially at low volumes.
2. Scales
-including 'microscales' (part of the scale, say 3,4,5 notes of it) and varying the articulation
slowly and intentionally, moving toward mastery
arpeggios- major, minor, modes
play everything like music, even one note
Oliver Nelson, Jackie McLean books.  These books have patterns in them that you can work on.
Here's a 'digital lick' played around the circle of fourths.  The movement in fourths happens in music pretty often. You'll move from the I to the IV, that's a fourth, in the blues. And from the V to the I is also a movement of a fourth. So those are two common harmonic transitions. If you practice something in one key and then move up a fourth, it will sound like the harmonic movement you might hear in a song.
digital_lick_tenor_circle_of_fourths_saxophone_tribe (mp3, right click and save)
3. Tunes, etc
As you practice, if you run into a pothole, you can make an exercise out of it.  To do that,  take it up a 1/2 step, down a 1/2 step, take it around the block using the circle of fifths, try it at different tempos, with different feelings, etc.
Classical  music will heighten sensitivity to music, sound, develop your chops.  Building up a classical repertoire on saxophone will help your playing and clean up a lot of things.  If you can master things like  Glasanov, Ibert, Creston, Al Gladoro, Marcel Mule, etc, then you are going to be a better player in whatever style you want to play.  You'll get into the finger points, things like perfectly executed crescendos and the right shortness of staccato.
As you practice, you may want to circle trouble areas and focus on them.  And you don't always want to practice a piece from start to finish, try working on endings first and making way back to front once in a while.