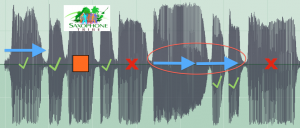 Welcome to the Critique Section. Read the the instructions carefully to get the most out of this section.

The Purpose of The Critique Section
The purpose is straightforward. We take time and much effort to learn and practice the saxophone.  We have played on our own and possibly with groups.  We work on tone, rhythm, phrasing, and all the other dimensions of music.  Not to mention dealing with reeds, mouthpieces, and all that.
We spend a lot of time working on our sound, to try and get it just right.  But then we're not sure.  It's difficult to assess yourself and your own playing.  As you play, you're connected to the horn.  You feel the instrument vibrating and you hear something different than anyone else will.  We also hear music in our heads in different ways than other people may.
So you can't really critique yourself.  Even if you have spent a lot of time on something and even received feedback and help on it, you can still use a second or third opinion. This section is where you can get that feedback and get suggestions.
The word 'critique'
Implies we're focusing in on the problems and being critical.  It's not always easy to handle critique.  Compliments and nice things are a lot more pleasant!  But no one plays saxophone flawlessly.  We ask for feedback on our playing to assess what changes we should make.  You'll be asked to slow down, really listen, adjust your phrasing, technique, breathing even.
The critical comments may not feel fantastic initially, but they will help you grow.  You'll improve your sound, rhythm, and more.    Both you and other people will like how you sound better, you'll become a better musician.
So how does this work?
Generally, the critiques will focus on a few details.  A thorough critique involves finding a number of things to work on and fix, each detail might take hours of practice to really get.   A long list of things to work on is a bit overwhelming and maybe even demoralizing.
It's more likely that we'll focus on one or two things and be advised how to work on it.
If you submit anything within Saxophone Tribe to get feedback on, I have the option of using it within Saxophone Tribe or on Sax Station.  Otherwise, you will need to pay me the full price of a private lesson.

Who is involved with the critiques?
I will review the recordings and give suggestions.  Most of the time I will listen to your recording first, then write back with some changes to make.  Part of the time I'll record myself playing examples.  You'll then take the feedback and work on the music then submit another recording.  From there you may be ready to move on or I may give you more feedback.  If you repeat the same mistakes, I'll repeat the feedback.  Part of the time I will make a full video critique, more often when it's a piece I have not critiqued yet.  If I have already made a critique, you should watch it first before asking for feedback, as I may point out some things to be careful about.
Other members of Saxophone Tribe may also comment, they may have very valuable things to say.  They hear music in their own way and maybe in a way closer to your audience. Different perspectives helps for this process.  The key is to make this about constructive criticism.  We will point out elements that sound good as well as pieces that need some help.  Be encouraging if you leave a comment!

How often can I ask for a critique?
As often as you need (premium for any recording) for assignments outlined in the 'steps'.  There are a number of recordings to be critiqued though, so it may not happen immediately.
What do you need to do next?
Send me a recording from the steps (including the 'any music you want' option within steps 1-4) that you would like feedback on, try to specify which elements of the music you think you need help with and what seems to be difficult.
If you have a microphone connected to your computer or even a built in microphone on your computer, that will be fine.  Don't worry too much about the quality of the recording.  And if you don't have a microphone on your computer, you can call and leave a voice message with yourself playing!   (831) 406-1468
_______________
First Critique – Kate, Pink Panther Theme by ear on alto