Neal,
Here is a sample of what I just recorded so go at it.
Thanks
Doug
Decided to do a video critique this time, let me know if that seems to work better than the images/text on the page with downloadable recordings and if you have any suggestions!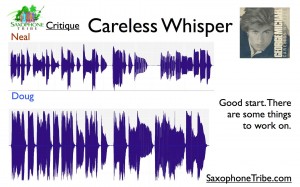 First thing I noticed was that there is some 'clipping' going on.  Basically that means you were a little bit too close to the microphone when you recorded, there was a little too much volume for it to handle, so the sound gets a bit distorted.
Hi Neal,
Thanks for getting back to me on the recording I sent to you. I recorded it with my Ipad and I now have a mic that I will try with my other computer and see if it sounds any better.
The one thing I am trying to work on is keeping my fingers on the keys and not letting them fly around as you so aptly put it which I can see is much better to not learn any bad habits. Right now I am practicing every day about 1 hour.
Thanks for your feed back and have a great day.
Hey Doug,
Try out the mic and see how it goes, the ipad probably would work a little better with a bit more distance between it and the sax.
Hi Neal,
I tried another recording of Careless Whisper which I did this morning with a mike and further away, and I believe it is better. I will let you be the judge of that though! I am going to start working on the long tones also. I feel like I am making progress after 6 weeks and am enjoying what I am learning.
Thanks,
Doug