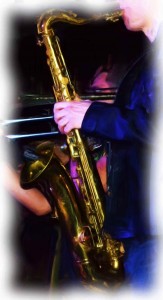 Technique supports rhythm, tone, and notes. Building good habits will save you much time in the future and make you sound better immediately.
Henry Lindeman came up with a very effective method in the 1930s. It is said that he taught Charlie Parker for a few years. Lindeman was inspired by the playing of Jascha Heifetz on violin and wanted to play with a similar high level of technique on saxophone. The saxophone is a much newer instrument, so Lindeman came up with his own exercises.
Lindeman also taught a saxophonist by the name of Phil Sobel and Phil Sobel taught one of my teachers, Gary Meek.
Here is the first Lindeman exercise for your fingers. Keep your hands curved, don't let any of your fingers become flat. Keep them all on the saxophone keys at all times. Use as little movement as possible and keep your body still.
The idea is to move your fingers like Charlie Parker.
Although the exercise is written originally as sixteenth notes, you don't want to play it fast initially. And something that makes that easier is to think about the notes as quarter notes, even half notes.
Play this slowly and carefully with very deliberate movements of the fingers.
Do not use alternate fingerings (alt C, bis Bb, etc).
Work on the movement between A and B  very slowly.  Play it as half notes and then slow quarters.  Do not think about it as eighth notes yet.

Eventually, you can play the exercise more like fast eighth notes or sixteenths.  But the purpose is to develop control, not speed.  Once you have control, you will be able to play with greater speed.
You can save this image and/or print it, if you would like.
Exercise #1
Audio example (right click and save as onto your computer)
Video:

There is a critique of the Lindeman exercise, check that out and leave a three sentence summary of what the Lindeman Exercise is about and what you should focus on while playing it, (as a comment on that page).
After you have practiced playing it slowly and evenly for a little bit, send me a recording as one of the steps.  When you have completed the first steps, you'll get access to more lessons.
Thanks