Here are the first five steps.
Go through these steps in the order they are listed and follow the directions, thanks.

1. Introduce yourself & say hello to other members
2. Check out the video and share how you sounded on day 1
3. Send a song (identify the song and your name in the file, also let me know whether you're reading the music or not)
4. Listen to and leave a comment (go to this page  Lindeman Critique and leave a comment at the bottom) describing what you see as the purpose of the exercise on the Lindeman video
5. Send recording of Lindeman slowly (identify what it is and your name in the file). Do not use a metronome for this exercise.
Details below:
1. Introduce Yourself on the introductions page http://saxophonetribe.com/saxophone-tribe-introductions/. And email me a photo of yourself to share with the group (photo encouraged, but not absolutely required) .
2. Check out the video and share how you sounded on day 1
(Time required: ~6 minutes)
3. Email me a recording or phone in a recording of you playing a song that you like.  Send to jammin@saxstation.com (use that email address for all recordings you send) Any song!
If you have not already, read the specifications for critiques. You won't get a harsh critique on this first recording though, just checking in to see what you sound like, might give you a tip or two and then you can move on.
(Time required: ~15 minutes)
Note: let me know what song it is and whether you're reading it or playing it from memory.  It can be a song from the music section, 'Play', Twinkle Twinkle, Loch Lomond, etc or another song that you choose. Label the song file with your name and what it is.
By hearing you play I'll know much better what you should be working on.  Don't worry too much about the quality of the recording.
My preference is that you send mp3 files (rather than wave files or another format) Do that if you have a microphone on your computer and a program to record.
There is another option to use a telephone if you don't have a way to record and send files.   And if you don't have a microphone on your computer, you can call and leave a voice message with yourself playing!   (831) 406-1468
4. Watch the video about the Lindeman Exercise on the technique page and listen carefully, then watch this critique.  After you have watched both videos, write a three sentence summary of what the Lindeman Exercise is about, what you should focus on while playing it, and what you learned from the critique.  Leave that comment on the critique page.
What is the purpose of it? To hear a few examples of 'schmutz' and learn what it is, check out this video.
(Time required: ~10 minutes)
5. After these three steps, send me a recording of yourself (email it) playing the first part of theLindeman exercise slowly and slurred, as shown below.  You're moving only one finger, all other fingers should stay on the keys.  This might not be something you're used to.
Do not tongue at any point between the notes.
(Time required: ~15 minutes)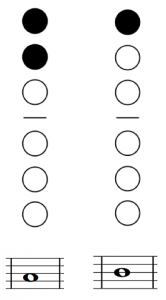 Get through those four steps first, then you'll get  the level I statue and the next steps.
Step out of your comfort zone (but not too far). 
Here's why: between what is comfortable and what seems impossible is where you will learn.  Practicing what is comfortable will not help you progress.  Getting to that place where you're learning could be as simple as slowing down something that seems impossible.
Try the Lindeman Exercise!! 
This will change how you play.
There is music available to work on.
You can download and I have a lot of classical music for you if you need more to practice.
Leave comments on the pages for everything you have try. 
Comments, questions, suggestions.
Let me know if you have questions about anything.
Recap:
1. Introduce yourself
2. Check out the video and share how you sounded on day 1
2. Send a song
3. Listen to Lindeman video & critique, leave a comment
4. Send recording of Lindeman