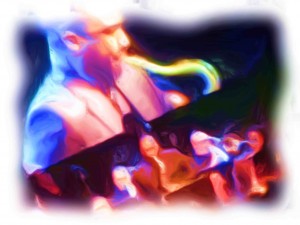 The other day, Angel asked me about long tones, specifically, "I would like to hear what the long tones are supposed to sound like."
I have used a few variations, the simplest is one octave up and down chromatically, using one breath for two notes at a time. You play the notes softly, but with intensity.  I got this exercise from Herman Riley.
In the first link below, I explain the exercise and play a few notes.  In the second link, I play the entire octave up and down of long tones on tenor saxophone.  So you can probably just listen to the first file, if you would like to hear the entire thing and how long I play each note, the consistency of the transitions, etc, go ahead and check out the second recording.
Long Tones Exercise Explanation and first part (mp3 file, right click and 'save as' 2.6 MB)
Long Tones Exercise Explanation and hear five minutes of long tones (mp3 file, right click and 'save as' 9.2 MB)
Another thing to do to improve your sound is practicing ballads.
Nature Boy, Skylark, Round Midnight, and also other slower tunes that aren't jazz.
Basically with long tones and ballads you sustain notes and can't hide the sound behind speed, rhythm, articulation, or anything else.  You are forced to start developing a sound that is good by itself without anything else.  And you want to have that, sounding good by just playing even a single note.
What are your favorite ballads?
When I asked some sax players I knew that question, they gave me a lot of ideas.
A few that I want to learn/relearn/learn better in the near future are:
When You Wish Upon a Star
I can't get started
Shadow of Your Smile
Body and Soul
Misty
Moonlight in Vermont
Polka Dots and Moonbeams
Tenderly
Pannonica
God Bless the Child
Exercises
Intonation on three notes
Adjusting the position of your mouthpiece on the cork of the saxophone lengthens or contracts the horn, changing the pitch. A longer tube will have a lower sound and a shorter tube will have a higher sound, think about a tuba compared to a piccolo.
Note: The temperature can affect your intonation, so it's good to be aware of the overall tendencies of your horn and the environment so you can blend and play with good intonation.
However, your horn may also have different intonation tendencies depending on the range of the saxophone that you are playing.