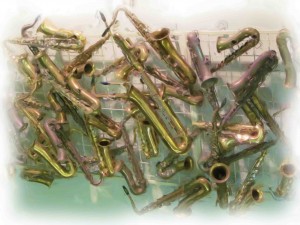 The brand of your saxophone, what mouthpiece you use, and the reed make some difference in your sound.
But not as much as some people think.
Neal: I have not seen anyone state what their set up is? I think this is important to know when talking about intonation? I play a Myer 5 with #2 to 3 synthetic reeds. Legere, Fibracell, Rico Plastic covers. I like the Legeres. My sound seems good with them. Tried cane for 6 to 8 months? Just call me squeaky!!! Got in the way of learning big time. So, I got on Fibracells and away went the squeaks. Tim
Hey Tim, not sure how much the mouthpiece/reed is one of the biggest parts of intonation. The horn itself has a pretty sizable effect. For me (and I think most others) it's more of a challenge to play in tune on a vintage horn. Vintage being 1924 with the Buescher tenor.
You might want to think about trying cane again, but I actually will use fibracell sometimes on alto/clarinet since I play those less. Used it for a little while on tenor, but then went back to cane.
-Neal
It's important to have your horn in good shape. A bent key or leak can cause all sorts of problems. You don't want to be fighting the saxophone as you play, it's easy enough to not play perfectly without that.
Maintenance
Maintenance is how we prevent most problems. It includes things like not eating or drinking things you shouldn't before or after you play. After you play, I recommend swabbing out your saxophone with a cloth or silk with string on it. I do not recommend the fuzzy sticks since loose fibers can get in your pads and cause leaks.
Every once in a while it's good to wash out your mouthpiece with warm (not hot) water and soap.
Reeds require delicate care because they break easily. You may keep them in the plastic covers that they come with and dry them out after you play. Some people keep them wet all the time using alcohol, but that can take a bit of work.
Reeds
The reed makes the biggest difference in your sound. And a good reed only lasts a few weeks…… That's how it goes. Try out some different reeds and realize that the same number from the same brand will not be the same reed, could be fairly different.
The reeds I tend to use are Vandorens and Ricos, but there are other good brands too. It's a matter of preference. And is also related to the equipment you have and situation you're playing in.
For the reed, it depends on what kind of mouthpiece you're using.  I have used 3.5, 3, 2.5.  It depends on the brand of reed too.
With a Meyer hard rubber, tip opening 8, I used #3 Vandoren V16 reeds.
With a Vandoren V16 tip opening 9 (fairly open), I used #2.5 Vandoren V16 reeds and then switched to #2 of the same kind.
Used the #2.5 Vandoren reeds on a Selmer metal 7*
Now with a metal Otto Link 7* opening, I'm using #2.5 Ricos or #2 Vandoren V16's.
Mouthpieces
Mouthpieces aren't something to obsess over, but sometimes it's good to try out different mouthpieces. You preferences may evolve and the mouthpiece can make a difference. Especially the transition from a stock mouthpiece to something a little higher up.
Metal can be harder to control than hard rubber, but it responds faster and has a more 'bright' tone. That can be good for certain styles of music – R&B, blues, jazz. You don't necessarily want a bright tone in classical music, could make it hard to blend.
The tip opening affects the dynamics you'll be able to play with. A basic rule is that a more open (bigger number) tip will increase your volume.