Work Song critique.
Sandy has been working on Work Song, by Nat Adderley a bit. Great tune, Cannonball Adderley killed it on alto sax.
Sandy sent me a recording:
Here's the version of worksong I am going to play next Thursday at a local hotel jazz club. Appreciate your comments.
-Sandy
My initial response:
Hey Sandy,
So it seems like you're playing it as you hear it in your head.
Are you reading it or playing it from memory?
Because you're changing some things with the rhythm. It's not bad, but you should be able to play it like Cannonball Adderley played it, in addition to changing it a bit.
Have you tried to play it like Cannonball Adderley does?
I liked the first two phrases of your solo, they seemed connected to each other. I would try to make the rest of the solo connected, more shape to it. That's something I continue to work on too.
And you can use the blues scale quite a bit. A rougher sound might fit the song better.
-Neal
Thanks Neal, Yes I'm playing it from memory although I did write the solo based on the chords. Ive heard the Cannonball Adderley version and find it a bit too fast at present
-Sandy
That made me want to know if Sandy had learned it from reading sheet music, seemed likely.
Was thinking about this more though and wanted to figure out exactly how Sandy played it was different compared to how Cannonball Adderley plays it. To do that, I got the CD recording of Cannonball and compared the first piece to Sandy's first piece. (the live version of youtube is slightly different, including that Cannonball ghosts the first note after he counts it off).
Came up with the idea of overlaying a grid on the waveform of the rhythm. The grid is evenly marked with four sections, in 4/4 time this makes each box a beat. Halfway through a box is an eighth note value. The grid can also be made to show twice as many boxes and therefore show eighth note values.
For this critique,first there are some diagrams and then a video below with recordings and their relative diagrams.
You can click on the images below to see larger versions.
Here's Cannonball playing with a four box grid: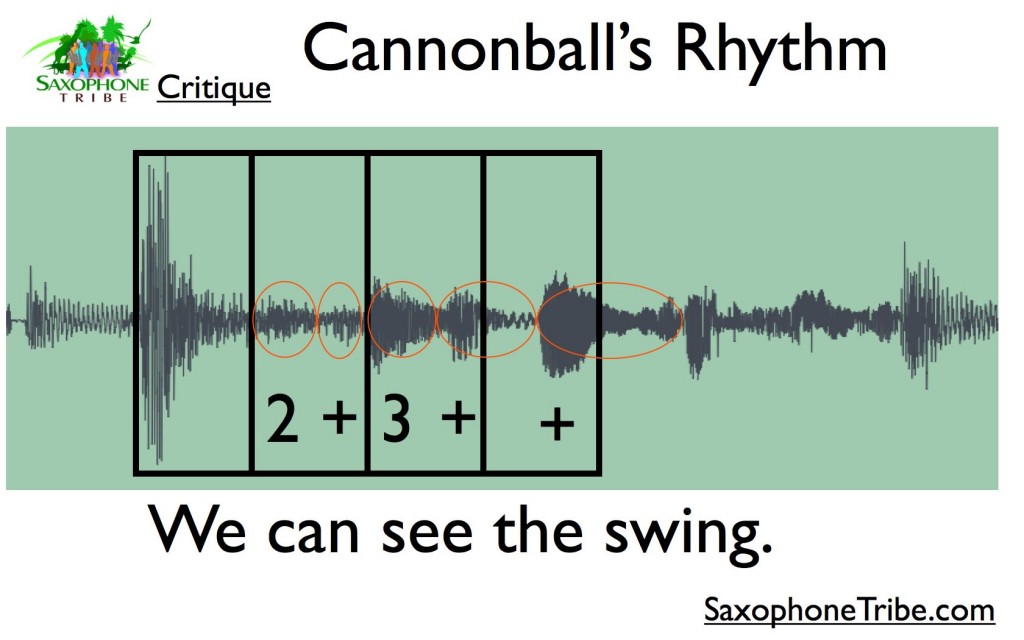 And Cannonball playing with an eight box grid: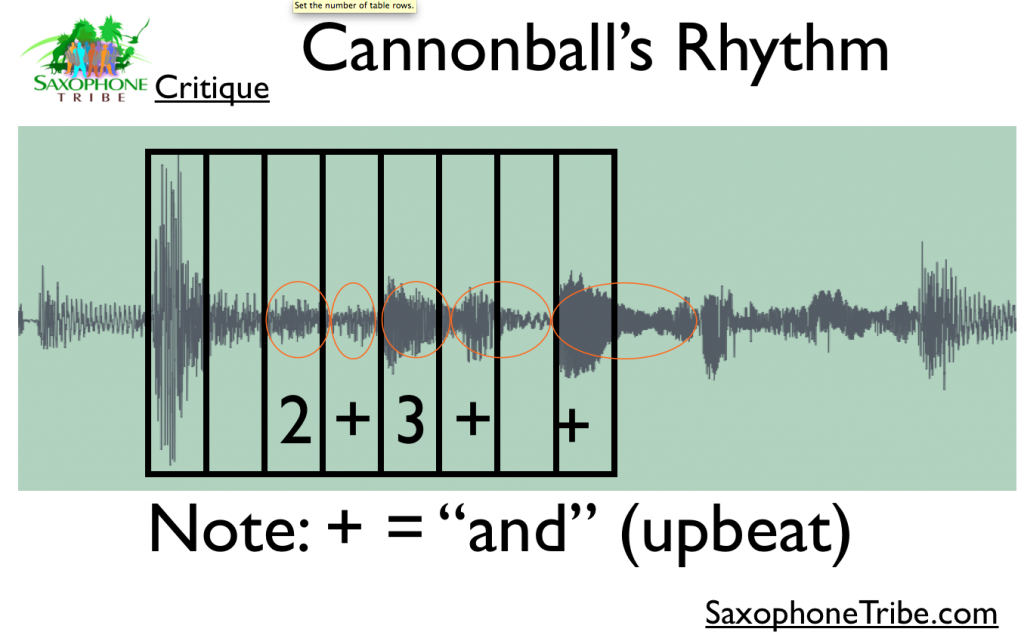 Notes:
The notes on the eight box grid don't 'line up' quite evenly, there's a reason for that. The eight notes aren't perfectly even, they are swung. Something you have probably heard about before, but here we see it in action.
The group had drums and bass swinging hard, plus Cannonball Adderley had an amazing sense of rhythm and deeply knew how to play in this style.
Also, on the 'and of 3' we see that the note isn't held for a full quarter note value. That actually tends to happen a lot in jazz where the quarter note value (quarter notes or two eighths tied) will be played short. It's a stylistic thing. That doesn't mean you rush into the next note, there is still a space of a quarter note value, but the note is played short.
Here is Sandy's recording with the grid: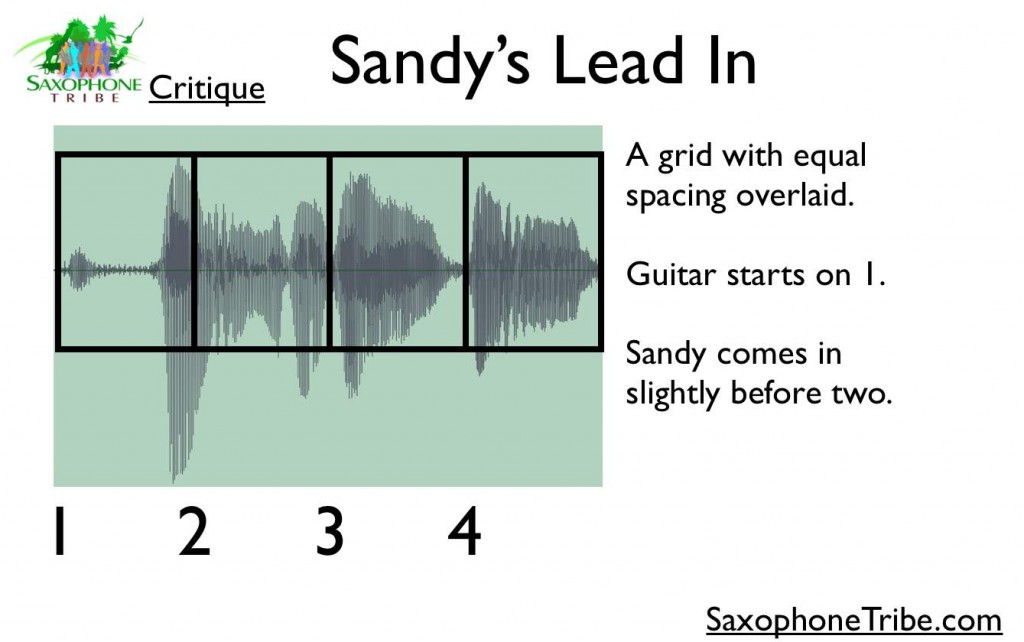 It felt a little off, but now we can see what's going on. It starts slightly early. The eight notes are swung, but the difference in length may be a little more than you want actually. That is closer to an older style of swing.
The slight variations in rhythm soon snowball into a phrase that is off time. The note held on beat three is held for a whole beat instead of half a beat, the upbeats aren't hit, and the last two notes should be quarter notes instead of eighth notes.
At a later point in playing the music, it's fine, good even to change the phrasing and make it your own. But certain changes work better than other changes. Some changes flat out will not sound good.
And you want to be able to play something like the original, even if you don't perform it exactly like the original later on.
Details like the upbeats in this melody really should not be shifted to downbeats, it loses the style and authenticity of the music.
Paying attention to detail means that we start right where we should and play the correct rhythmic values.
To be fair, here is a recording I made of Work Song, it's also not perfect, not exactly like Cannonball played it. There are details I can see in it that I want to work on and make better.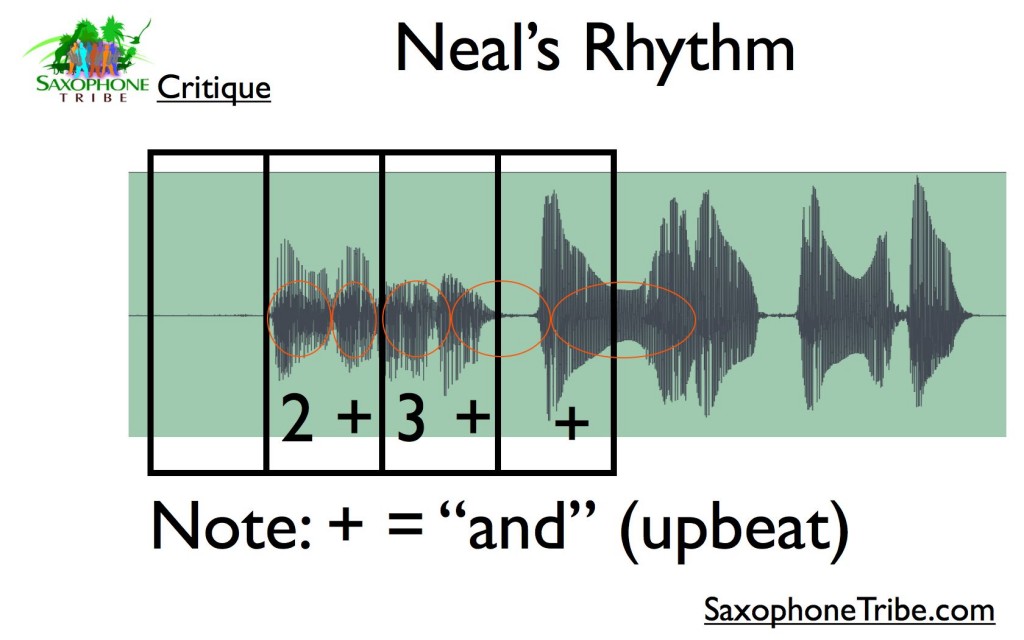 Unlike Sandy who's playing along with a track or Cannonball who's playing with a band, I'm just playing it solo.
The first two eighth notes are decent, I swing them pretty much the same way that Cannonball does.
I left the red circles in the same proportions overlaid on my recording as they were in Cannonball's recording for comparison purposes.
After that, I don't swing "three and" as hard as Cannonball, so I should probably swing that more and make the first note slightly longer, the second slightly shorter. In what might be related to that slightly anticipated upbeat (in that it's not 'late' and swung quite right) the 'and of 4' comes in slightly early, not much but just a little. If I swung the previous two notes more, that might fix it.
Video: