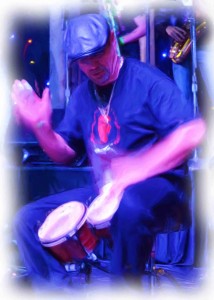 Rhythm is the most important piece of music that you can hear (in my opinion). It includes what we usually think of as rhythm – the notated quarters, eighths, etc. It also includes the space that we're not playing, which is just as important.
The finer details of rhythm includes articulation, which is very important in sounding authentic to a certain style, as well as phrasing. Smooth jazz isn't staccato all the time.
Downbeats and Upbeats
The downbeats would be the four beats we divide the measure into for 4/4 time.  If you're in 3/4 there are three downbeats in a measure.
Example: In Merengue, all four downbeats are important and dancers step on all downbeats, same thing in Bachata (though there is an accent on the fourth beat there).
Halfway between downbeats is the upbeat.  Or if you played eight eighth notes, every other eighth note would be an upbeat.
So- down, up, down, up, down, up, down, up.

Often times in more simple music, like that in a beginning saxophone book, we tend to play on downbeats.
Example:

Audio: downbeat_example (mp3, right click and save)
You would count the first measure: "1 2 3 4"
You would count the second measure "1 and 2 and 3 and 4 and"
And actually, I'm going to use "+" to represent "and". Those are the upbeats.
Within a beat is one downbeat and one upbeat. The first half of the beat is the downbeat, the second half is the upbeat. You might not start a note on the upbeat, but the upbeat is still there.
You can also have rests on downbeats or upbeats.
There are further divisions of the beat, but with whole notes, half notes, quarter notes and eighth notes (and the corresponding rests) you'll tend to see downbeats and upbeats.
Many styles of music also emphasize upbeats and other divisions of the beat. So if you want to play jazz, Latin, funk, and other styles, you have to get comfortable with leaving the downbeat.
In classical music, marches, and a few other styles, beats 1 & 3 are emphasized. It is not the same with all styles of music.
In music that is swung, 2 & 4 are more emphasized than 1 & 3. Work Song by Nat Adderley starts on beat 2. The rest of the band sets the horns up to hit beat 2 in a strong way. If you don't, you're out of sync with the music.
Here are some examples that include upbeats that are emphasized.
1. Two upbeats, three downbeats in the first measure. Four upbeats and one downbeat in the second. Depending on the style of music you're playing, you may play quarter notes on the upbeat for the full value of one beat or play them short. If you play them short though, you have to still wait for the full value of the note before playing the next one.

Audio:  upbeat_example_1 (mp3, right click and save)
2. One upbeat, three downbeats, the second note is held for 1.5 beats. In the second measure there is one downbeat and three upbeats. A staccato marking reduces the value of a note by 1/2, so a quarter with a staccato marking is played as an eighth note, an eighth note with a staccato marking is played like a sixteenth, etc.
Unlike quarter notes on the upbeat which may be played short without any articulation marking (especially in jazz), notes on the downbeat usually should have articulation markings. To be more clear, for people not as familiar with jazz, it would probably be better to have articulation markings wherever things change, but in practice, that isn't the case.

Audio:  upbeat_example_2 (mp3, right click and save)
3. Four upbeats in the first measure, then four downbeats in the second measure. In this example, the notes are spaced in the same way, they are just displaced (shifted) by a half beat.
If you're familiar with mathematics, the sine and cosine wave are the same thing with a shift. If you shift sine it becomes cosine and if you shift cosine, it becomes sine. They just start in different places.

Audio: upbeat_downbeat_example  (mp3, right click and save)
Try playing this one on your own.

Articulation
Articulation is basically rhythm on a more up close scale, like you zoom in a camera.  The words we use for it tend to be Italian. Legato – long and smooth. Staccato – short and separated.  Marcato is similar to staccato but not as short.
Exercises
C major scale with metronome
Try playing a C major scale as quarter notes (slowly) with the metronome.
Slur the notes together this time. It's good to practice scales with different articulations, but for this time, slur it.
Take it as slowly as you need.
This should show you that you are able to stay in time with the metronome if you set a comfortable speed.

Downbeats
Play these rhythms perfectly in time, at a tempo no faster than you can play accurately.
The idea is not to make it sound pretty!
Upbeats
Play these rhythms perfectly in time, at a tempo (probably slowly) that makes the rhythm even. The measures are each repeated so there are three different measures each played twice.
You may want to use a metronome with this challenge.
The first eighth note is on the downbeat, the following quarter note is on the upbeat.
Songs
Had the idea of breaking down the rhythms of some different songs that members of Saxophone Tribe are working on. Isolating the rhythm to focus on it. When the rhythm is more solid, you'll play the song better.
I'll put in some of the unique/challenging rhythms. And as this continues, you'll be able to find more and more rhythms that possible here.
Note: the rhythms are presented in a random order. Click on the individual images to see larger versions.
The Girl From Ipanema by Antonio Carlos Jobim
Summertime by DuBose Hayward & George Gershwin