Learning how to improvise isn't something that can be done overnight or even in a week though.
If you're still struggling, have more questions, and want some help and guidance……
For current Saxophone Tribe Members, you may pay the regular price and get the premium version.
Click here to learn more or buy now
(Intermediate)
-Feel lost without sheet music?  Reading music is very important, but it's equally important to develop your ear in playing saxophone.  A better ear will help you take better solos and be able to learn all sorts of music that would have only been available through written music without this ability.  Don't stay handcuffed to sheet music!
Click here to learn more or buy now
For ear training, this is a very helpful tool.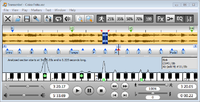 Transcribe for Windows
Transcribe for Mac
Transcribe helps to work out a piece of music from a recording, in order to write it out, or play it themselves, or both. It doesn't do the transcribing for you, but it is essentially a specialized player program which is optimized for the purpose of transcription. It has many transcription-specific features not found on conventional music players.
It is also used by many people for play-along practice. It can change pitch and speed instantly, and you can store and recall any number of named loops.
Apps
Just got this one, called 'Goodear Trainer Pro'
You can work on intervals, melodies, chords, and scales. What I really like is that you can input thing using a piano keyboard interface, which feels a lot more like actually using a real instrument.
I have a few of the 'New Real Books' – Volumes 1 and 2, they're pretty good. Unlike the older 'real book' which has quite a few mistakes.