Based on Gil's recordings of the tune.  It's available in the music section ('Play' on the navigation).  And it's involved in some of the later steps.  Great tune.  I also recommend checking out Louis Armstrong's version, which I posted on the page with the music.
Recommendations:
1. Pay attention to note durations.
2. Specifically, hold quarter notes and half notes for full value, even at a slow tempo.
3. Tone is a little shaky at times. Work on slow tunes (like this one) and long tones a bit more.
Overall, it improved a lot, work on these things to keep moving forward.
Continuing working on St. James Infirmary
Here are a few diagrams that are packed with information.  I overlaid different pieces to compare them and notated which pieces correspond to eighth notes, quarter notes, and half notes.
To compare, here is what I recorded with some comparisons of note durations overlaid. You can also click on this image to see a larger version.  The lowest wave (under "Neal") shows the recording in full, then I overlaid eighth notes and quarter notes to compare them.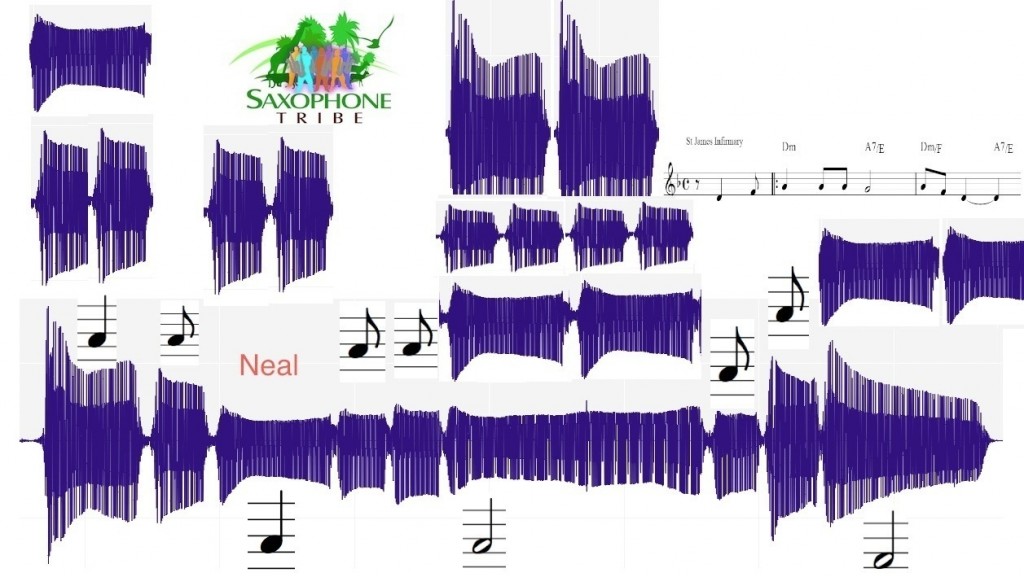 You'll see that the first quarter note is pretty much twice an eighth note.  It's slightly shorter. Looks like I played the first quarter very slightly too short.
After that, the eighth note is half a quarter note.  The following quarter note is two eighths and it's more accurate that the first quarter note (slightly longer).
The two eighths following it are the same length as the previous eighth note.
The half note is slightly longer than two of my quarters or four of my eighth notes.  You can also see that my first quarter note is a little shorter than my second quarter note.  The first quarter notes side by side are at the top there.   The half note is pretty close to twice the duration of the more accurate quarter.
Eighth notes after that stay pretty consistent.
The last note, the tied quarter notes, the same length as a half note, is not held for full value.  I was playing this slowly, starting to run out of breath and cut it a little short.  It's closer to a dotted quarter.  I didn't rush into the next note after that though, I still gave enough space before coming back in on four for the next phrase.
Gil's Improved Recording
After receiving some feedback, Gil recorded this version (mp3 file of first phrase).   I used one of his eighth note values as the standard for measurement.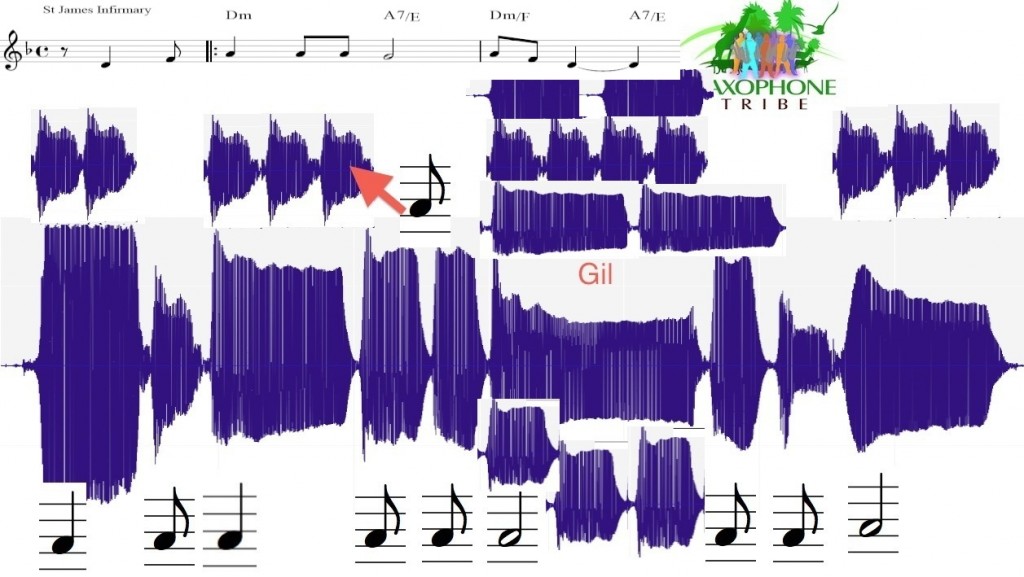 The first quarter note is pretty well, the same length as two eighth notes, then comes an eighth note (the one I used as the standard).
After that is a quarter.  This quarter is longer than the first quarter, it's more like 2.3x an eighth note I would say.  Seems like it is a little bit too long.
The next two eighth notes aren't bad, but the first one is a bit longer than the second.  That first is longer than the previous eighth note we saw too.
Following that is a half note, I had told Gil to focus a bit on getting the full value for that note and he does, it's the same length as four eighth notes when I compare it to the 'standard' eighth note.  However, if you compare it to the longer (first) eight note of the two right before it, it's more like 1.5 beats and isn't as accurate.  And if you compare it to the long quarter note, it's not twice the duration of one of those.  If you compared it to the shorter quarter note (at the top of the diagram) it is close.
The next two eighth notes are pretty good.  The final note which should be two beats is cut off a little early, which I had done too.
Lessons from this analysis
That got pretty deep into the relative values of notes, we looked at what I played and what Gil played.  Discovered some things that I could do to improve this, the main thing for me is to hold that first quarter very slightly longer.  Sometimes coming in with the first note will be slightly delayed, you have to get the air stream moving, and that happened here to me.  With a low note, you have to be more on top of it.
Gil's playing this much better, there are a few things that aren't accurate, being able to see them should help in working those things out.  I used one of the eighth notes as a standard, but that doesn't mean it actually was perfect.  Between the first and second quarter notes, the first one is shorter and the second one is longer.  When two of each are overlaid above the half the difference between the becomes more apparent.  From hearing it, I think that the second (on beat one) is slightly too long and the first may be slightly too short.
Comparing the eighth notes with different values, they should be closer to each other.
Recommendations:
1. Try not to play that second quarter note too long.
2. Make sure eighth notes have the same duration (in music that is played straight) and are consistent.
3. You rush off of the half note a little bit, hold it for it's full value.  Though this has improved from before.
It keeps improving, these are some details you can work on.  Hopefully you aren't getting sick of the tune!
Sam Playing St. James Infirmary
Sam sent me a recording.  The durations of the notes were fairly accurate, the quarter notes seemed pretty consistent, the eighth notes were a little less consistent.  The half notes were definitely not cut short, might have been very slightly too long.  The main issue was that there was a lot of space in between all the notes, that looks like this:

In comparison, my version looks like this:

There's a little space as I tongue, but not as much.  In this first phrase of the melody, there are not any rests written.  So there shouldn't be very much space between notes, only enough to separate them slightly with the tongue.
Recommendations:
1. Try slurring the entire melody.  See how that feels.  Send in a recording like that.
2. Make sure eighth notes have the same duration (in music that is played straight) and are consistent.